Hello Readers!!!
Well, sad to say this, but October has been a pretty slow reading month (sad face). But of course the AMAZING books that I read makes up for the lack of books that I read this month. So here goes my LONNNNGGGG list of books that I read this month!
Ninety-Degrees by Megan Duke
Ninety Degrees is the story behind Silas McFuller's senior year at Chattanooga Prep. He and his best friend, Charleigh McAfee, have never cared about grades or ACT scores. Their drive stems from creativity and pushing the boundaries when it comes to the arts and the world around them. They've got one year left of high school, and they want to make it count. For Charleigh, that means crossing into dangerous territory alongside a rebel with a southern drawl. For Silas, it means letting go of reasoning and finally letting his true self shine. Readers of the Small Circles books know better than any that life is short, and within that small spanse of time, it's okay to be happy.
Check out my full review here: Ninety Degrees
I LOVVVEEEDD this book (DUH), and I CANNOT wait until Infinite Limits… though I sort of can, because eeeek!!! What's going to happen to Paxton and Jade!!!?? And everyone else!!!?!?!
---
The Secret Diamond Sisters (The Secret Diamond Sisters #1) by Michelle Madoe
Savannah. Courtney. Peyton.
The three sisters grew up not knowing their father and not quite catching a break. But it looks like their luck is about to change when they find out the secret identity of their long-lost dad—a billionaire Las Vegas hotel owner who wants them to come live in a gorgeous penthouse hotel suite. Suddenly the Strip's most exclusive clubs are all-access, and with an unlimited credit card each, it should be easier than ever to fit right in. But in a town full of secrets and illusion, fitting in is nothing compared to finding out the truth about their past.
Check out my full review here: The Secret Diamond Sisters (The Secret Diamond Sisters #1)
Being a huge fan of Gossip Girl, I DEFINITELY loved this book. Though it's very different from Gossip Girl! You should definitely check this series out! ANDDDD the second book Diamonds in the Rough released on October 28th! I can't wait to read it!
---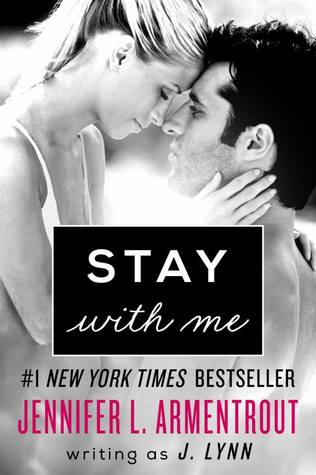 Stay with Me (Wait for You #3) by J.Lynn (Jennifer L. Armentrout)
At 21, Calla hasn't done a lot of things. She's never been kissed, never seen the ocean, never gone to an amusement park. But growing up, she witnessed some things no child ever should. She still carries the physical and emotional scars of living with a strung-out mother, Mona—secrets she keeps from everyone, including her close circle of college friends.
But the safe cocoon Calla has carefully built is shattered when she discovers her mom has stolen her college money and run up a huge credit card debt in her name. Now, Calla has to go back to the small town she thought she'd left behind and clean up her mom's mess again. Of course, when she arrives at her mother's bar, Mona is nowhere to be found. Instead, six feet of hotness named Jackson James is pouring drinks and keeping the place humming.
Sexy and intense, Jax is in Calla's business from the moment they meet, giving her a job and helping her search for Mona. And the way he looks at her makes it clear he wants to get horizontal . . . and maybe something more. Before Calla can let him get close, though, she's got to deal with the pain of the past—and some very bad guys out to mess her up if she doesn't give them her mom.
Check out my review here: Stay with Me (Wait for You #3)
My first NA genre series, and I am absolutely LOVING it! I can't wait to read the next book!
---
Three-Sixty by Megan Duke
Three Sixty is a story about a group of friends. You may recognize two of them as the younger siblings of Larson Ashby and Jade Walbridge, but that does not mean you know them. Audrina, Paxton, and Larson meet Carter after he decides to spend the summer with his older sister Jade. Set during the summer before Audrina's freshman year of college, over the course of those four months, the friends come face to face with jealousy, regret, freedom, and the true meaning of love. As a companion to the novel Small Circles, Three Sixty promotes the notion that it's okay to be happy, even if you have to completely turn your life around, and start over, in order to achieve that.
Check out my review here: Three-Sixty
Get this book.. like now!!!
What I am reading right now, but haven't finished:
Clicks by Amy Evans
Clicks are the sounds the universe makes when it stops to tell you what's going to happen next. Truths you hear in your heart that you can't explain.
For sixteen year old Cami, the clicks won't stop. They're telling her to fall in love with the wrong twin, that her family is hiding something, and that Pinhold, her pristine Island home, is in danger.
Born and bred to win, Cami's family expects her to join a secret society called The Guard, marry one of the two identical twin boys next door, and stay on Pinhold Island for the rest of her life. Home to perfect waves, black sand beaches, and the world-famous Surf Carnival, Pinhold seems deceptively perfect. While visitors are jealous of the few hundred people who get to live there, Cami feels stifled. Thanks to the intense link she shares with her own twin, Mica, she can't even be alone with her thoughts. While Cami's more than happy to be a lifeguard, a lifelong commitment to the endless summer feels like a trap.
It should have been a fun summer of surf competitions and beach patrol. But dolphins are washing up on shore and the best swimmers are drowning. Then her twin brother Mica goes down too.
The only thing that can save her brother is the truth that only Cami can learn. But can she trust the clicks?
—
Clicks is the first novel in The Pinhold Prophecy – The fate of the world balances on the head of a pin.
I hope that I get in at least 5 books for the month of November, but we'll see!
Don't forget…
Happy Reading!!!!