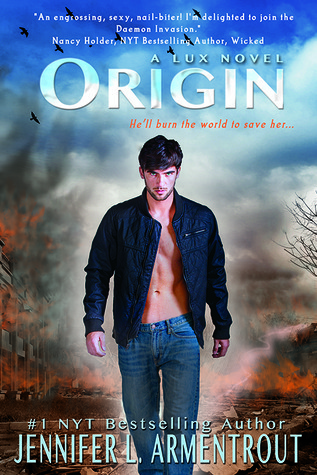 "While you're deep in something, you never say or do what you need to. It's always after the fact, when it's too late, that you realize what you should've said or done." pg. 427 Lux: Consequences by Jennifer L. Armentrout
"I'd told her that we made the good kind of crazy together, and I hadn't known how true that really was until this very moment, because what I was about to do was really, truly, 100 percent certifiable." pg. 481 Lux: Consequences by Jennifer L. Armentrout
"It wasn't that I felt stronger because he was there, though in a way I was. But it was because I now had someone on my side, someone who had my back. I wasn't alone in this, and if it had been the other way around, I would've done the same thing he'd done. I doubted-." pg. 525 Lux: Consequences by Jennifer L. Armentrout
"Sometimes words were cheap. They could be powerful, but in those rare occasions like now, words meant nothing." pg. 623 Lux: Consequences by Jennifer L. Armentrout
"My eyes landed on a stuffed green doll with an oval head and large black eyes. I picked it up, frowning. Why in the world did humans think aliens looked like a whacked-out Gumby?" pg. 625 Lux: Consequences by Jennifer L. Armentrout
Goodreads synopsis:
Daemon will do anything to get Katy back.
After the successful but disastrous raid on Mount Weather, he's facing the impossible. Katy is gone. Taken. Everything becomes about finding her. Taking out anyone who stands in his way? Done. Burning down the whole world to save her? Gladly. Exposing his alien race to the world? With pleasure.
All Katy can do is survive.
Surrounded by enemies, the only way she can come out of this is to adapt. After all, there are sides of Daedalus that don't seem entirely crazy, but the group's goals are frightening and the truths they speak even more disturbing. Who are the real bad guys? Daedalus? Mankind? Or the Luxen?
Together, they can face anything.
But the most dangerous foe has been there all along, and when the truths are exposed and the lies come crumbling down, which side will Daemon and Katy be standing on?
And will they even be together?
My review:
I gave this book 5 out of 5 stars.
I am so sorry for not writing out this review sooner!
I was so so happy that I had the special collectors edition because I don't know what I would've done if I didn't have Origin around to begin after what happened to Katy in Opal.
The beginning of Origin takes place more or less right after the events in Opal.
I really enjoyed the way in which this book was written. Like many recent books that I have read, this book was written from both Daemon and Katy's perspective (which is absolutely fantastic). I feel as though you are given an opportunity to see more about a character besides the main character. And since it's also written from Daemon's perspective, you get sooo much more of his sarcasm and humor.
In the beginning, you are given a chance to read what happens to Katy and what she is going through after she is caught at Mount Weather, as well as what Daemon is going through back home as he deals with Katy being caught.
You will such a change in Katy's character, especially from the person you saw in the first book. She faced extreme hardships during her time after being taken. You feel so much pain for what she is put through, and for Daemon as he tries his hardest to get back to her no matter what, even if it means putting himself in harms way. But there are also many happy moments! And then very sad, heartbreaking moments again ( so be prepared!).
Like the previous books in this series, there are many twists and turns throughout this book and you will be shocked by what you find out.
Out of all the books the ending left me completely stunned and shocked, so I would highly recommend that you have Opposition (Lux #5) on hand with you. Since I began this series, I like each book even more than the previous one.
You should absolutely read this amazing and unforgettable book in the Lux series!
Happy Reading!